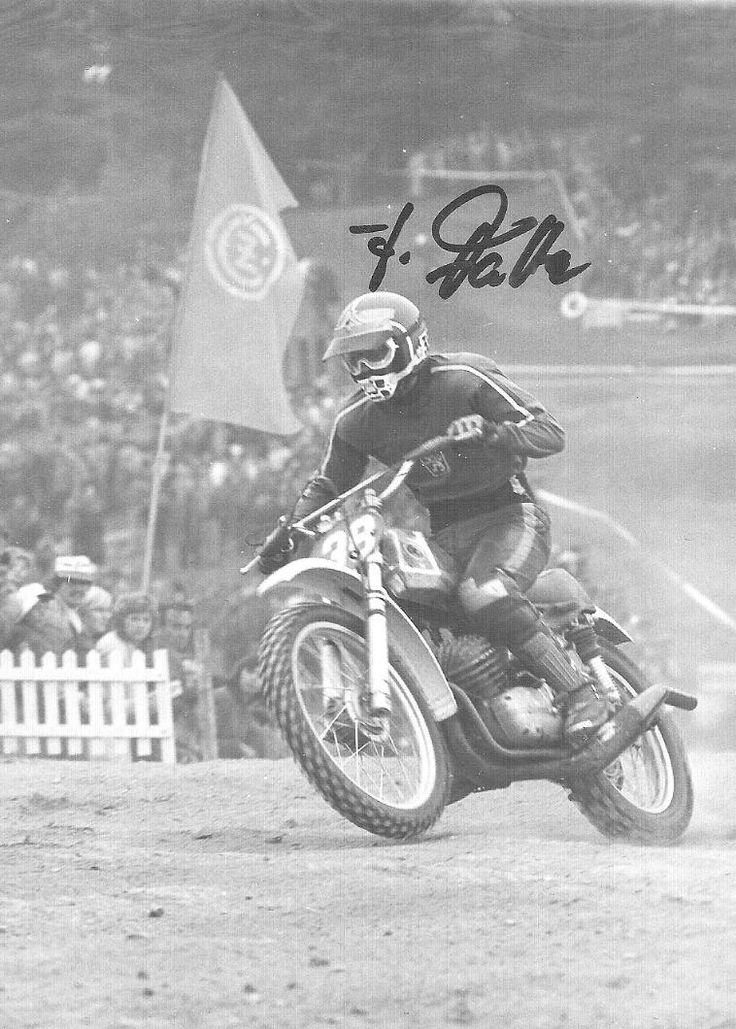 Motorcycle development and production as well as competition victories in 1950s and 1960s enabled the ČZ brand to be among the world's most successful makers of competition and street motorcycles. After World War II, ČZ was the second largest motorcycle manufacturer in Europe. It was during this period that the company experienced its greatest racing successes. It began competing in the 250 cc and 350 cc classes of Grand Prix motorcycle road racing. These bikes, although technically refined, were rarely very competitive with bikes from the powerful Italian factories such as MV Agusta, Gilera and Mondial.
In the 1969 ČZ produced the technically advanced "Type-860" GP model with a 350 cc V4 engine, developed by the engineer Frantisek Pudil. This advanced bike, with double overhead camshaft, 16 valves, 8-speed gearbox, Ceriani forks and Dell'Orto SSI carburetors, produced 63 horsepower (47 kW) at 16,000 rpm with a maximum speed of 240 km/h. The V-4 achieved several good results: the best being in 1971, at the Czechoslovakian Grand Prix when Bohumil Stasa finished second behind Jarno Saarinen on his 350 cc Yamaha. In 1972, the bike almost won the Austrian Grand Prix.
With just few laps to go in the race the ČZ was leading Giacomo Agostini's MV Agusta when it had to retire with mechanical problems. In 1972 ČZ abandoned Grand Prix road racing competitions in order to concentrate its efforts on motocross.
ČZ proved to be much more successful with motocross and became well known for its powerful two-stroke off-road motorcycles. They were the first company to use expansion chambers in their exhaust pipes. During the 1960s, they would become the dominant force in off-road competition, winning seven Grand Prix Motocross World Championships and dominating the International Six Day Trial.
By the 1970s, with the advent of inexpensive and technically advanced Japanese motorcycles, ČZ lost an increasing share of the motorcycle market. Ironically, many of the innovations successfully pioneered by ČZ, were copied by the Japanese factories. In 1993 the motorcycle branch of ČZ was bought by the Italian motorcycle manufacturer Cagiva, who intended to use the Czech factories to build their own brand of motorcycles as well as new ČZ and Jawa models. The venture failed in 1997 due to Cagiva's financial difficulties and the ČZ motorcycle brand went out of production.
Motocross World Championship Results
125cc
1975 2:a G.de Roover
1975 3:a A.Baborovsky
1975 5:a J.Churavy
1976 2:a J.Churavy
1976 3:a Z.Velky
250cc
1963 2:a V.Valek
1964 1:a J.Robert
1965 1:a V.Arbekov
1965 2:a J.Robert
1966 2:a J.Robert
1967 2:a J.Robert
1968 1:a J.Robert
1969 1:a J.Robert
1969 2:a S.Gebors
1974 2:a J.Falta
500cc
1965 2:a P.Frederichs
1965 3:a R.Tibblin
1966 1:a P.Frederichs
1966 2:a R.Tibblin
1967 1:a P.Frederichs
1967 3:a D.Bickers
1968 1:a P.Frederichs
1972 2:a P.Frederichs
1974 World Champion Constructor 250cc
Ring oss
(Tekniska frågor besvaras per telefon)
Tel: 08-974050, Fax: 08-972090
Öppettider
Måndag till fredag 08.00 – 16.45.
Lördag och söndag stängt.
Lunch: 11.00 – 12.00.
Besök oss
StiBo Motor
Altartorpsvägen 3, 141 70 Segeltorp
(Stockholm) Sweden